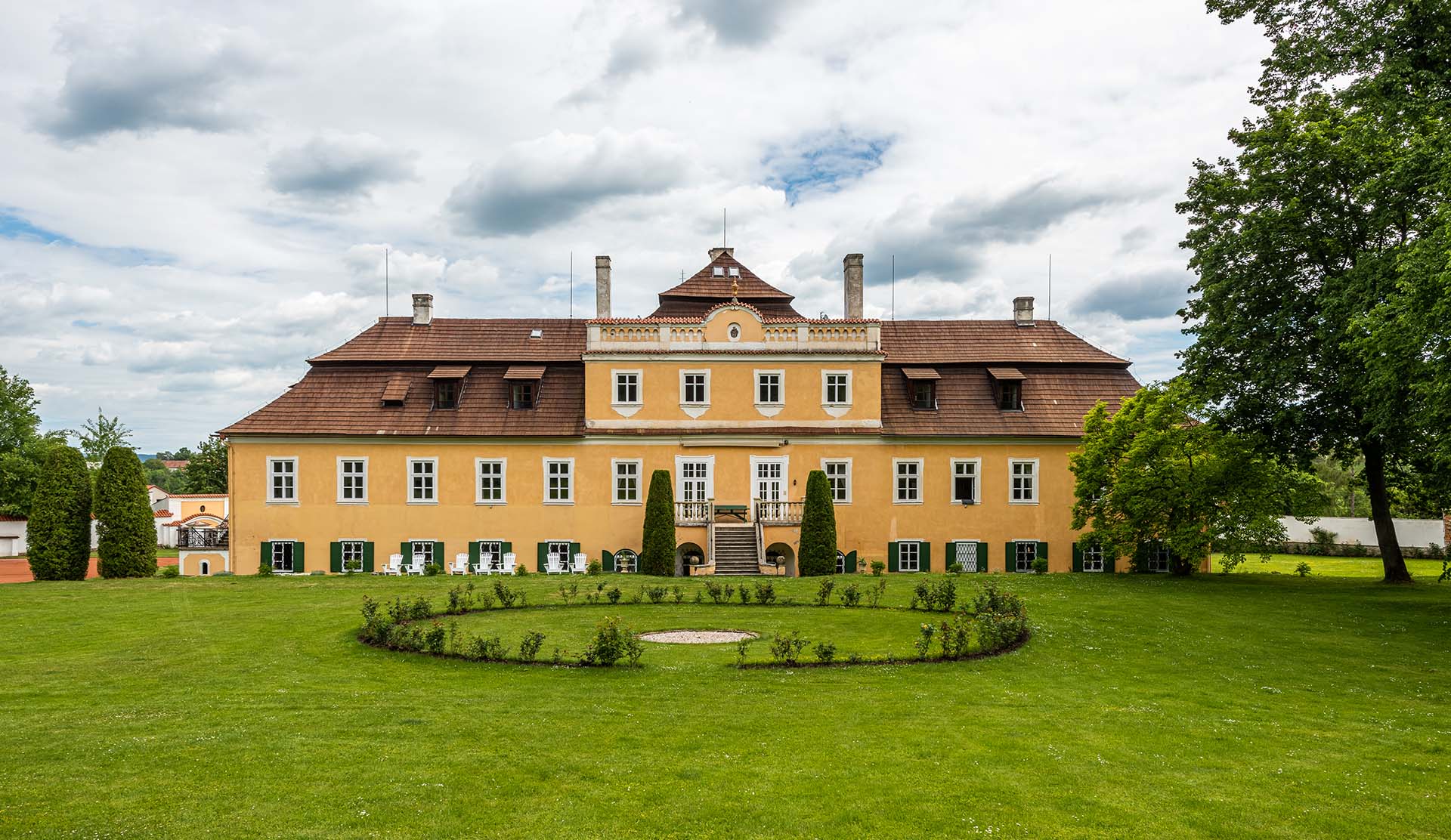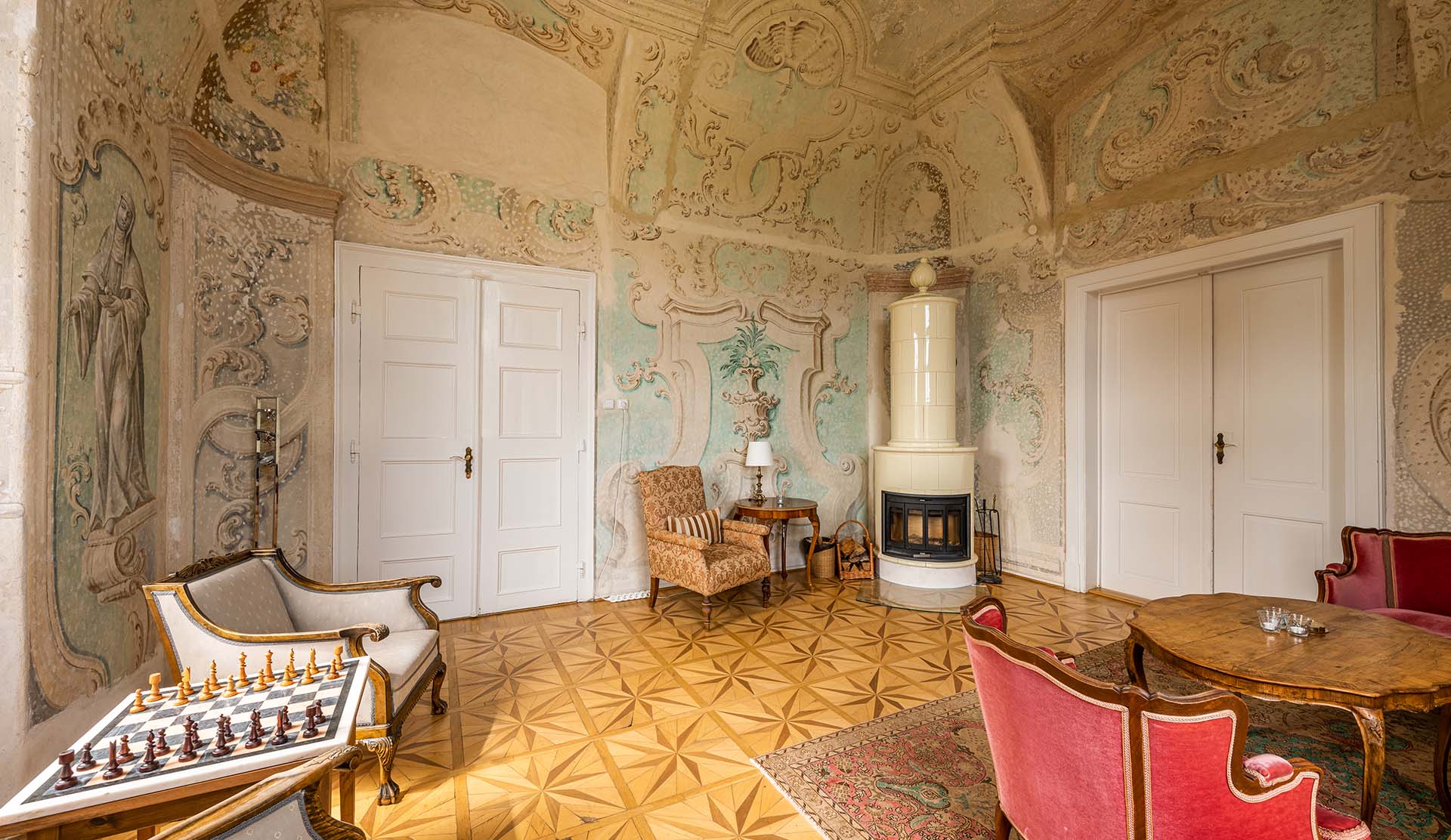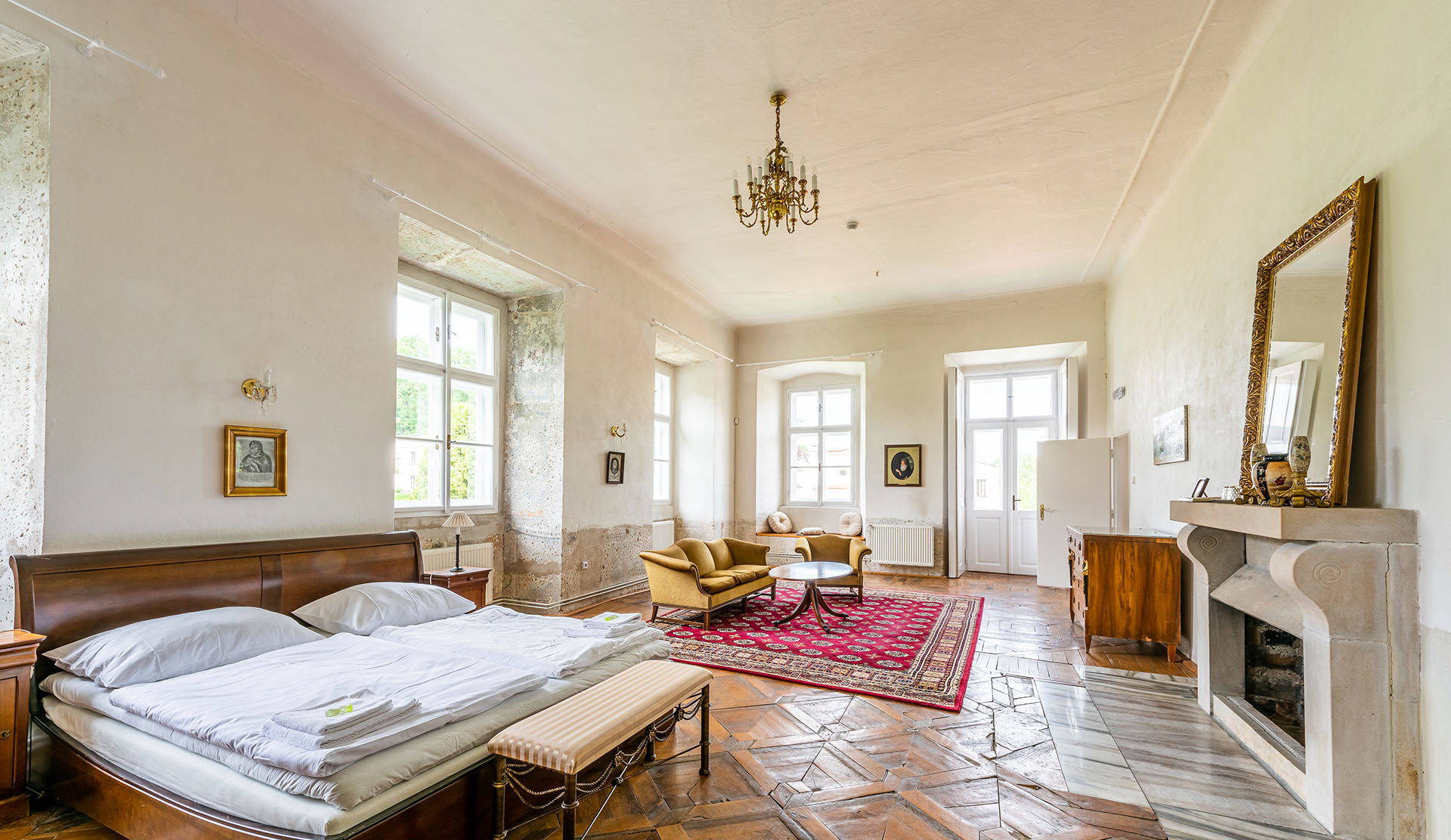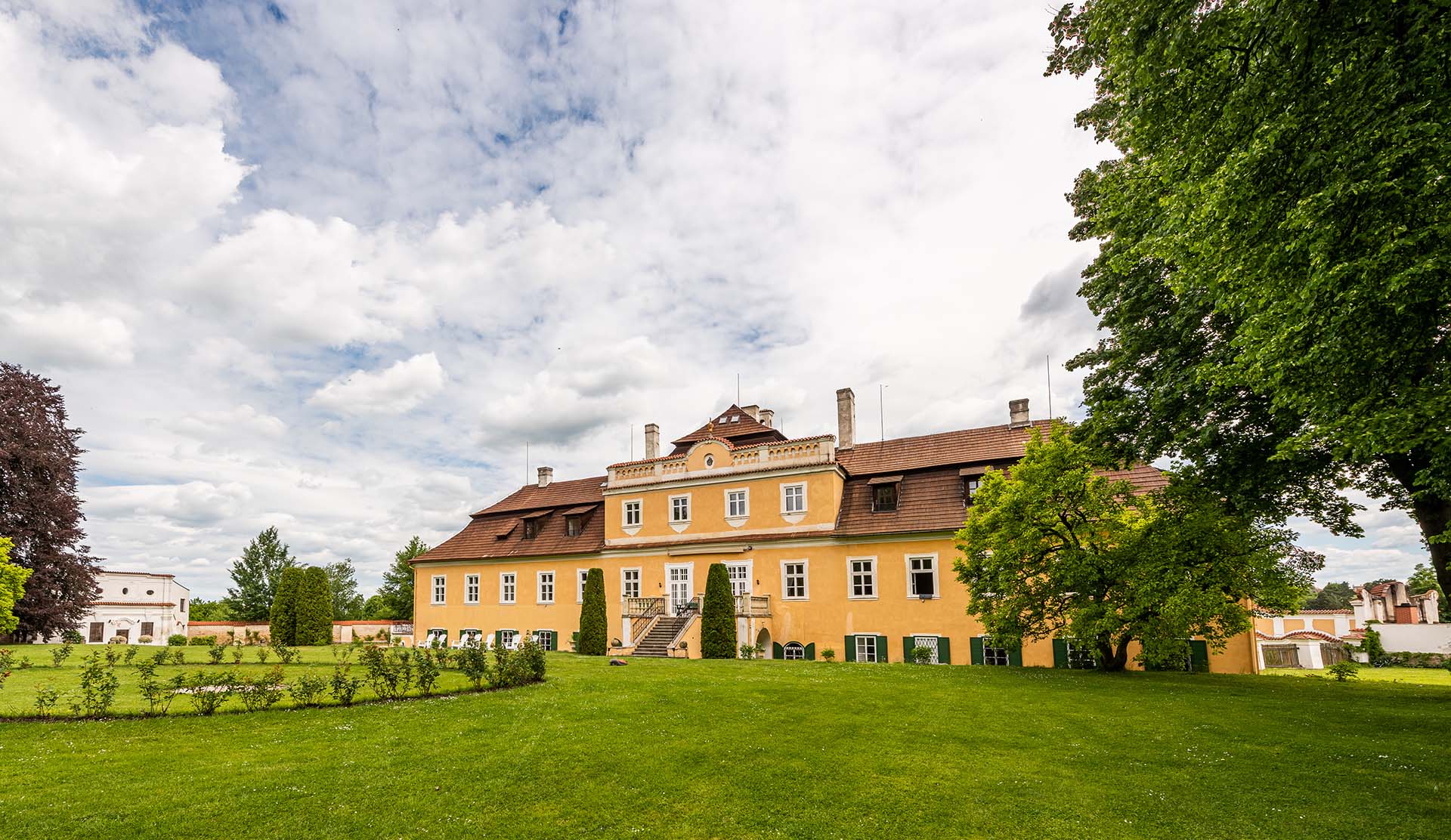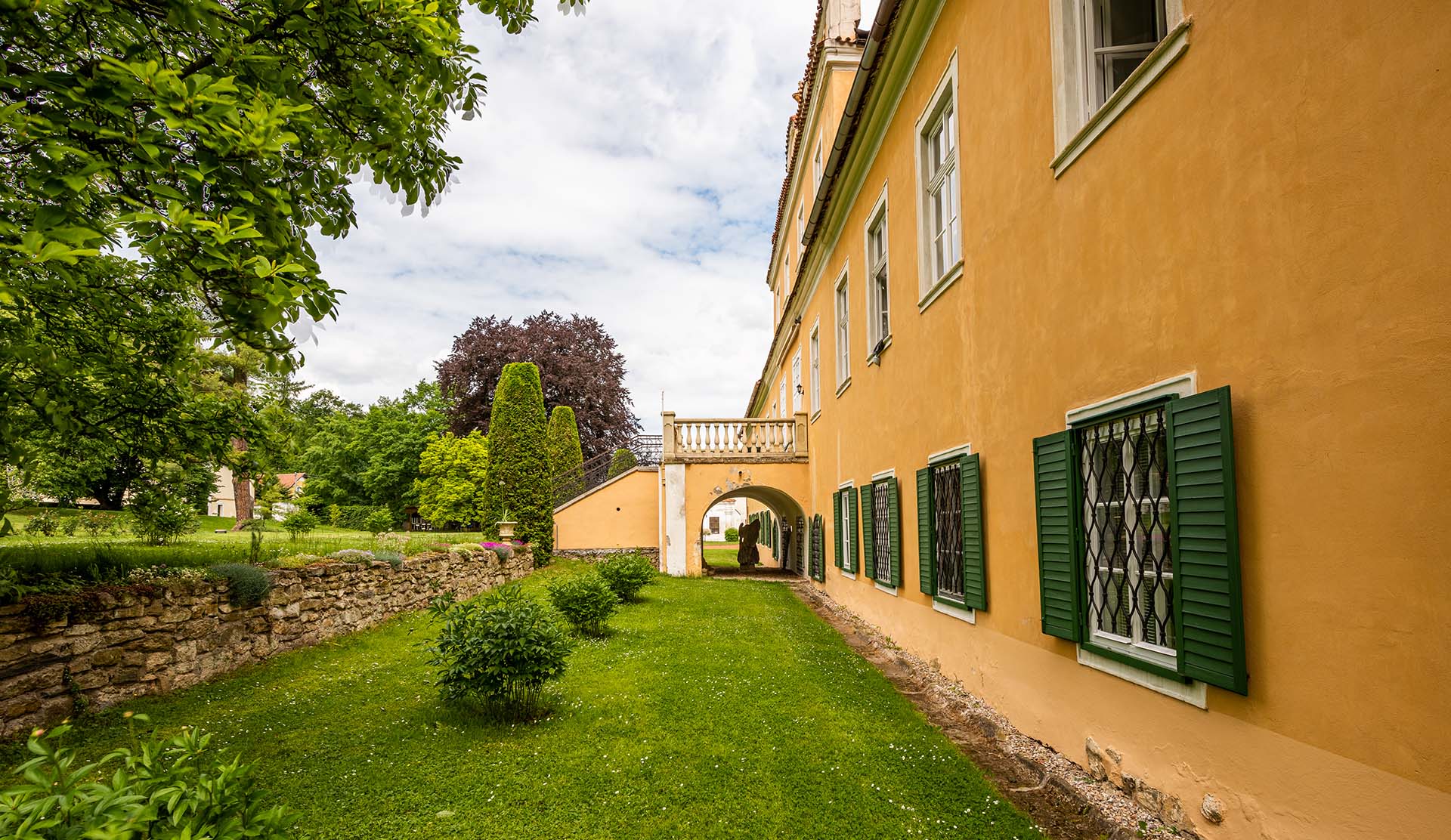 Vilémov - Chateau
The town of Vilémov is located in the foothills of the Iron Mountains on the river Hostačovka, not far from the catchment town of Golčův Jeníkov. It consists of two settlement units - Vilémov and Klášter. In the first quarter of the 12th century a Benedictine monastery was founded on the site, which was destroyed by the Hussites in 1421.
After 1577 Beneš Beneda of Nečtin founded a two-storey Renaissance fortified manor house on the ruins of the monastery, which was rebuilt in the Baroque style at the end of the 17th century. In the years 1756–1765 it was enlarged according to the architectural design of Jan Josef Wirch by a massive two-storey central risalit (transverse wing), extending into the hexagonal court of honour. At the turn of the 18th and 19th centuries the chateau became a refuge for organist and composer Matěj Sojka (1740–1817), and in 1809–1810 a military hospital was housed here.
After the death of the last male member of the Carretto-Millesimo family Josef Eckmühl Reiský of Dubnice inherited Vilémov in 1852. During the 20th century his descendants struggled with all the historical turbulences of this period: in 1942 the chateau was confiscated by the Nazis, and after the end of World War II the soldiers of the Soviet Marshal Malinovsky lived here for some time. After their departure the chateau was once again run by Václav's grandson, Alfréd Reiský, though only for a short time. In May 1948 the Czechoslovak state took the Reiský family's property and they emigrated to the USA. The chateau became the seat of the district secondary school, then the senior school of the primary school was based in the more and more run-down complex.
As part of the restitution proceedings the derelict chateau was returned to the political scientist, prof. Vladimír Reiský. He restored the chateau and established a language centre and the Library of European Integration, which were located in the chateau for several years. The chateau remains an important cultural centre of the Vysočina region.
Vilémov - Chateau
Adresa: Zámek Vilémov, 582 83 Vilémov u Golčova Jeníkova
GSM: +420 605 200 516
Phone: +420 605 200 516
E-mail: info@vilemovcastle.cz
Website: www.vilemovcastle.com