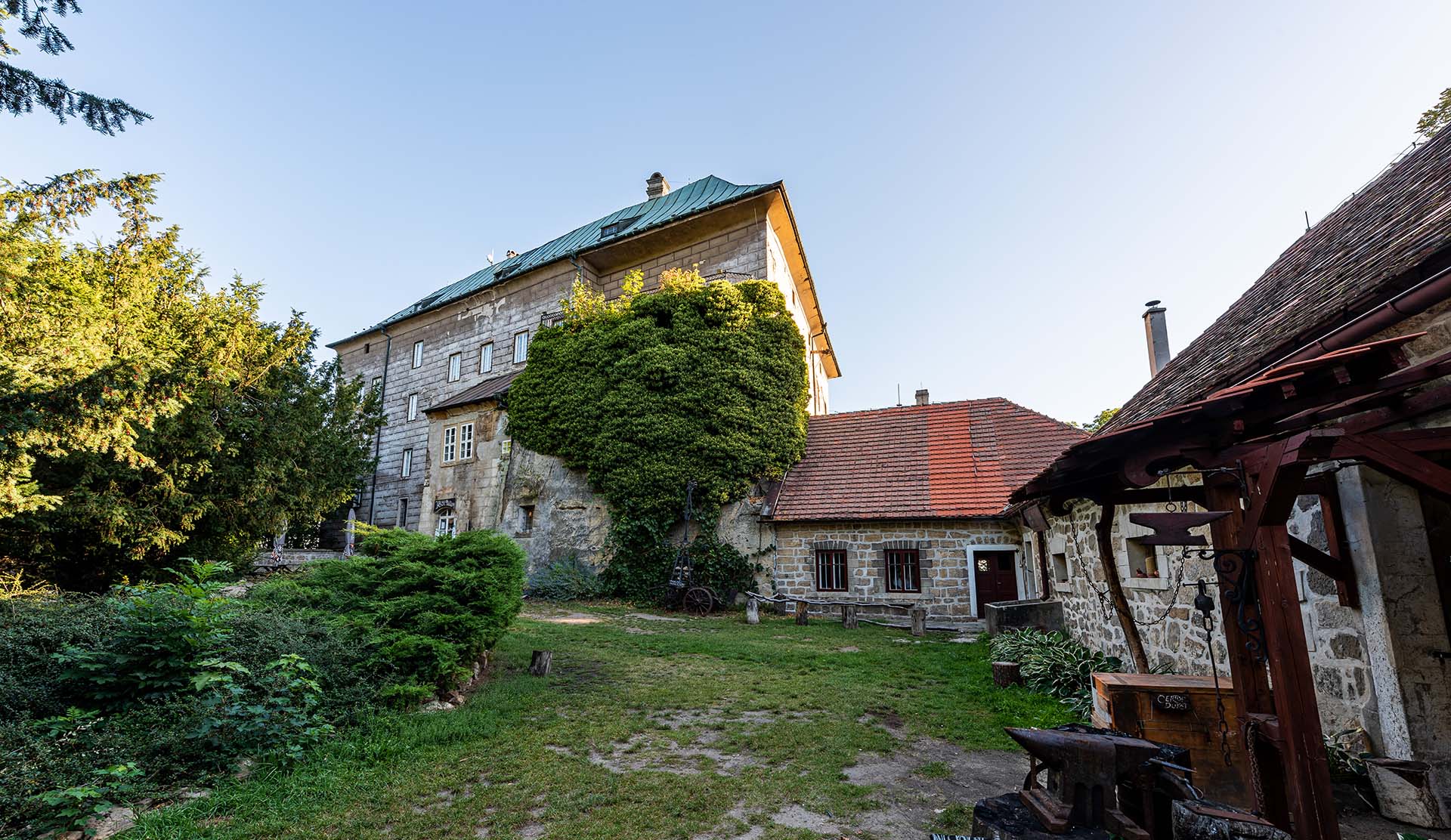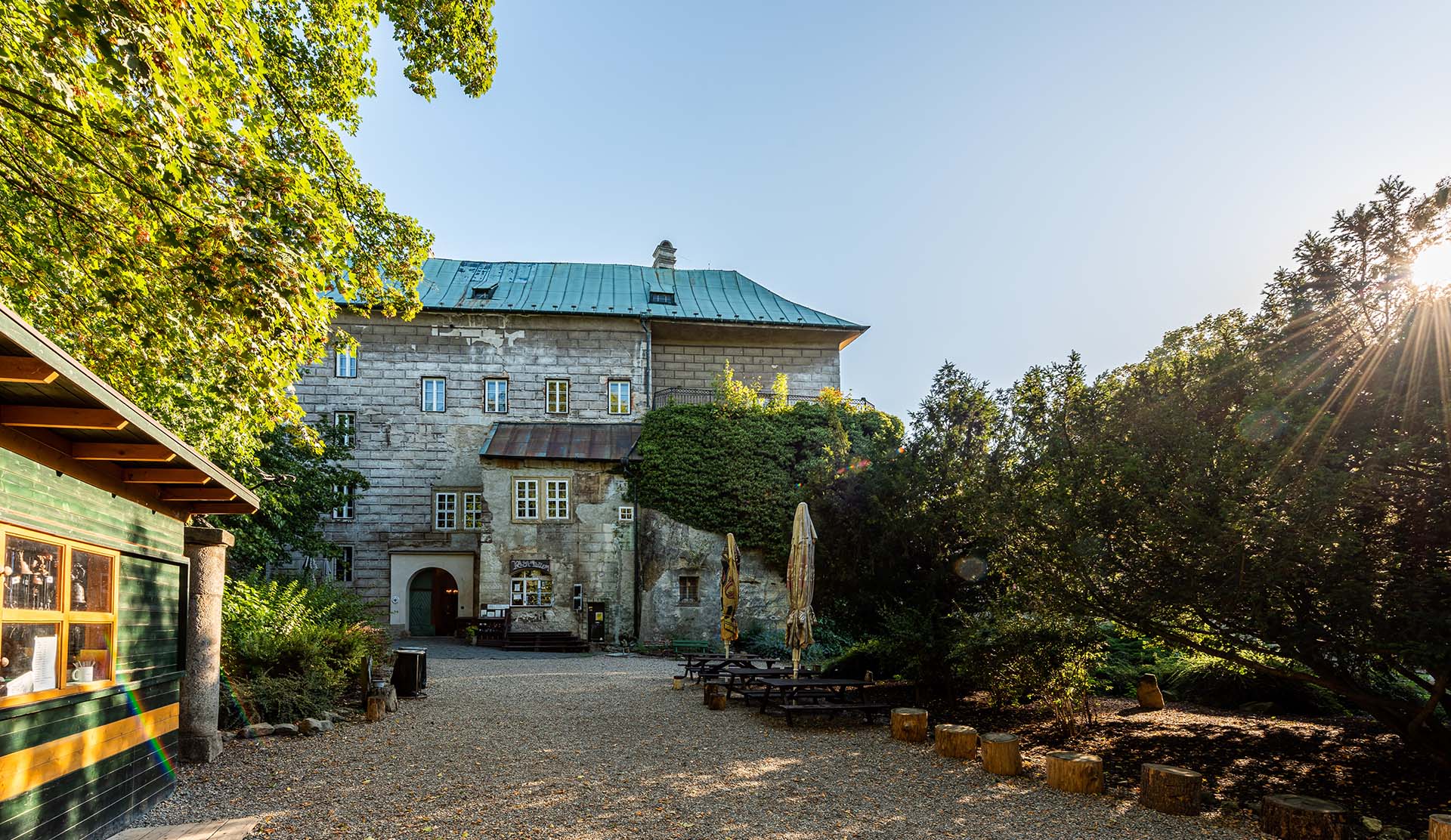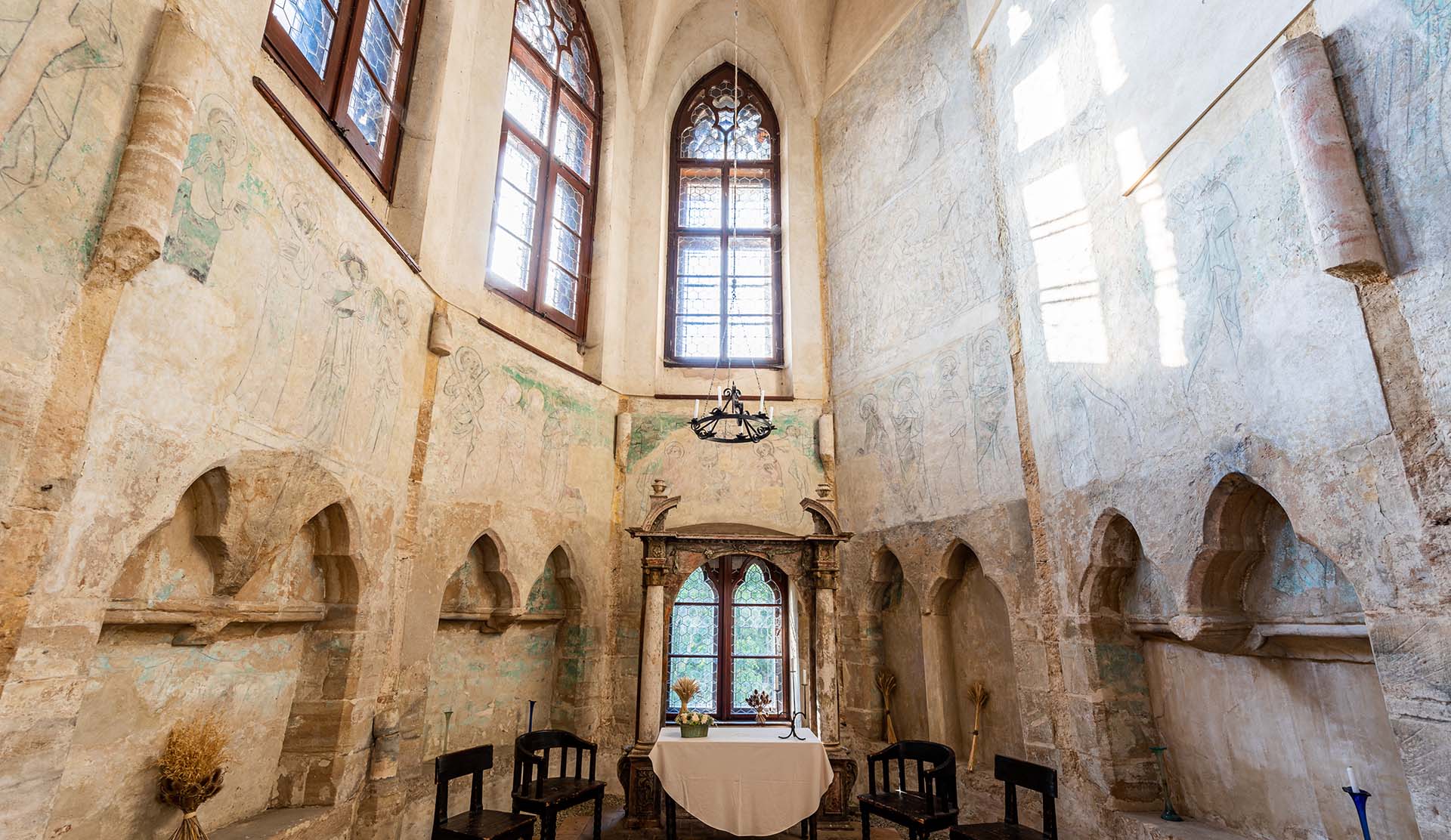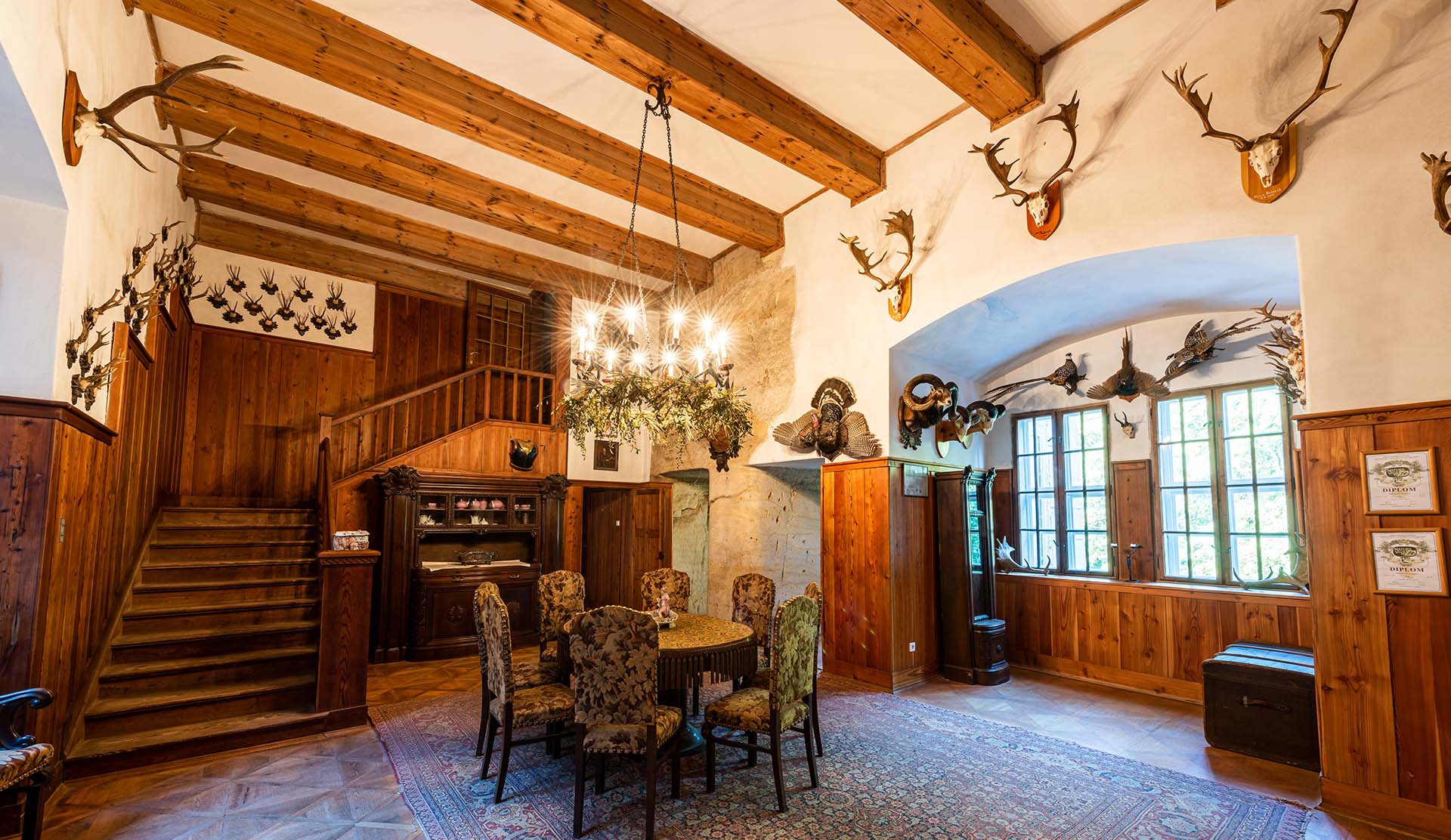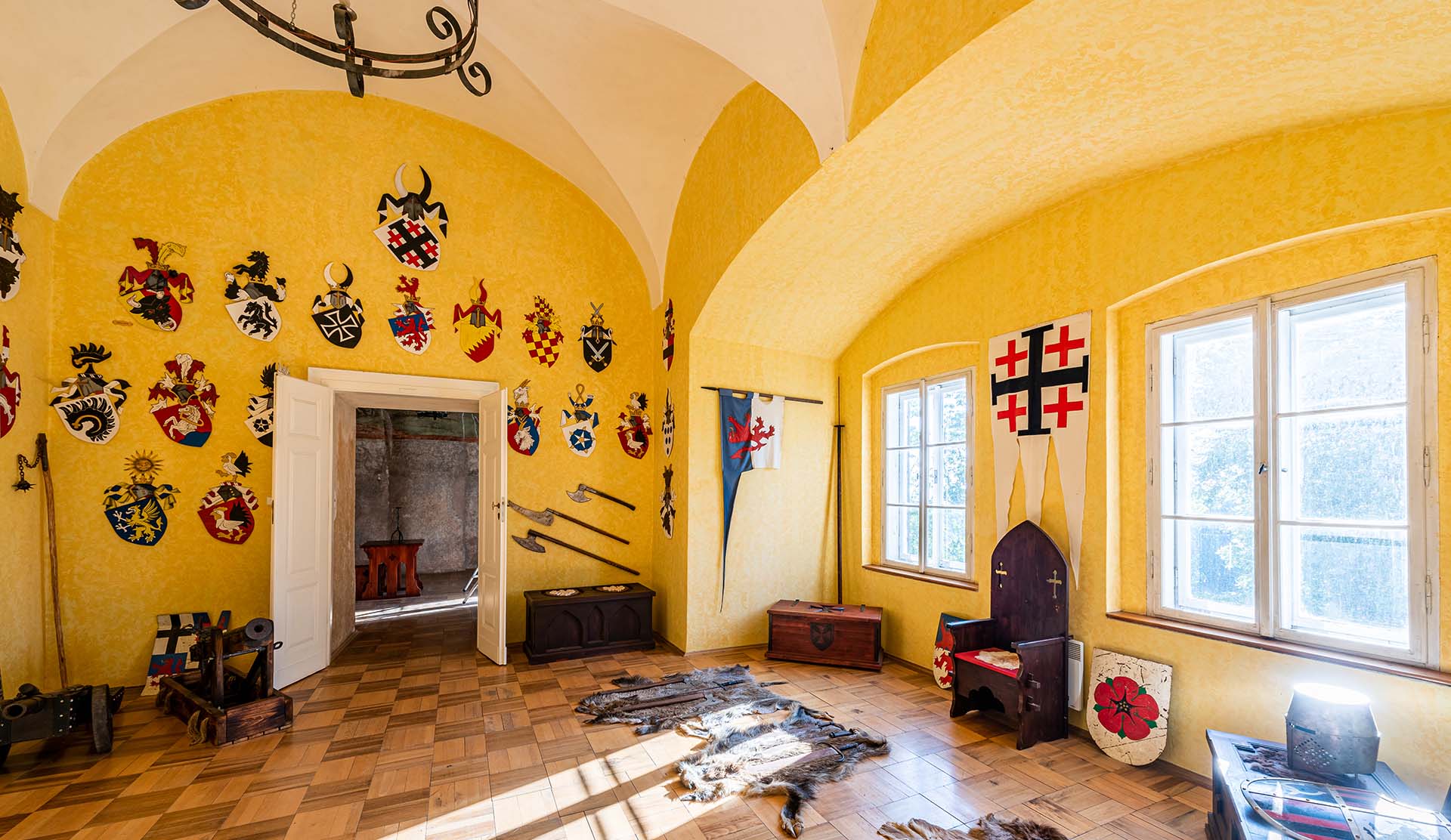 Houska - Castle
Houska is an early Gothic castle rebuilt in the Renaissance style, which lies in the eastern part of the Kokořín forests, 47 km north of Prague. It has been listed as a cultural monument of the Czech Republic since 1965. The original Gothic castle, whose masonry is still largely preserved in the Renaissance reconstruction, was built in the first half of the 13th century by King Přemysl Otakar II, though probably the construction was already started by his father Wenceslas I. The first written mention of the castle is in 1316, as the property of Hynek of Dubá.
In connection with the development of artillery, at the end of the 15th or the beginning of the 16th century, massive exterior fortifications were created, thanks to which the castle was assessed as impregnable even after the Thirty Years' War. In the years 1584–1590 the core of the castle was rebuilt by the Hrzán of Harasov family into a Renaissance chateau, when, among other things, the entire current entrance wing was created. After the end of the Thirty Years' War the Habsburgs issued an order to demolish all castles, which in the event of another war could become strongholds of the enemy, and Houska was among them. However, in 1658 the owners of the estate negotiated that only the square shaped early Gothic tower, the fortification walls with walkways and farm buildings in the castle forecourt were demolished, and all the building material was used to fill in the castle moats. Although a total destruction of the castle did not happen as originally planned, Houska did lose its fortification system.
In 1700 Jan Vilém Kounic bought Houska. Under the Kounic family Houska ceased to serve as the seat of the family and only the most rudimentary maintenance work was performed. It wasn't until 1823 that Vincenc Karel Kounic had the chateau renovated in the Neo-Renaissance style. Houska remained in the possession of the Kounic family until 1897, when it was acquired by the Princess of Hohenlohe. After her death in 1918 the estate was inherited by Countess Eleonora Andrássy. In 1924 she sold the castle to the director and later president of Škoda Works, MP Josef Šimonek, who was ennobled for his achievements in industry. After extensive repairs in the years 1929–1930 Houska was used as a summer and representative seat of the family until 1939.
In the early 1990s the castle was restituted to the descendants of Josef Šimonek, who have been gradually repairing it and have made it available to the public for the first time in its history.
Houska - Castle
Adress: Houska 1, 471 62 Doksy
GSM: +420 728 351 101
Phone:
E-mail: houska.kastelan@centrum.cz
Website: www.hradhouska.cz