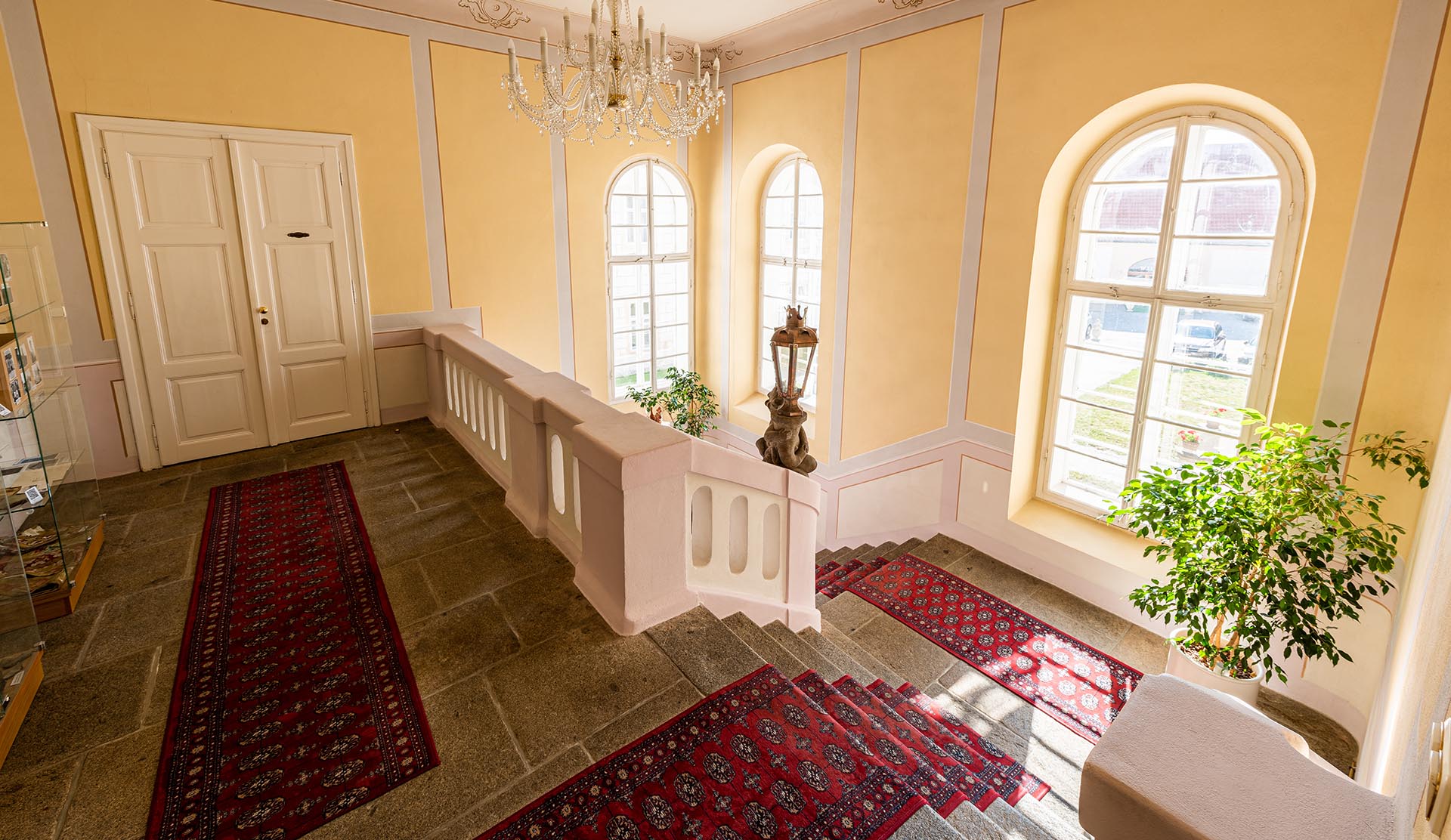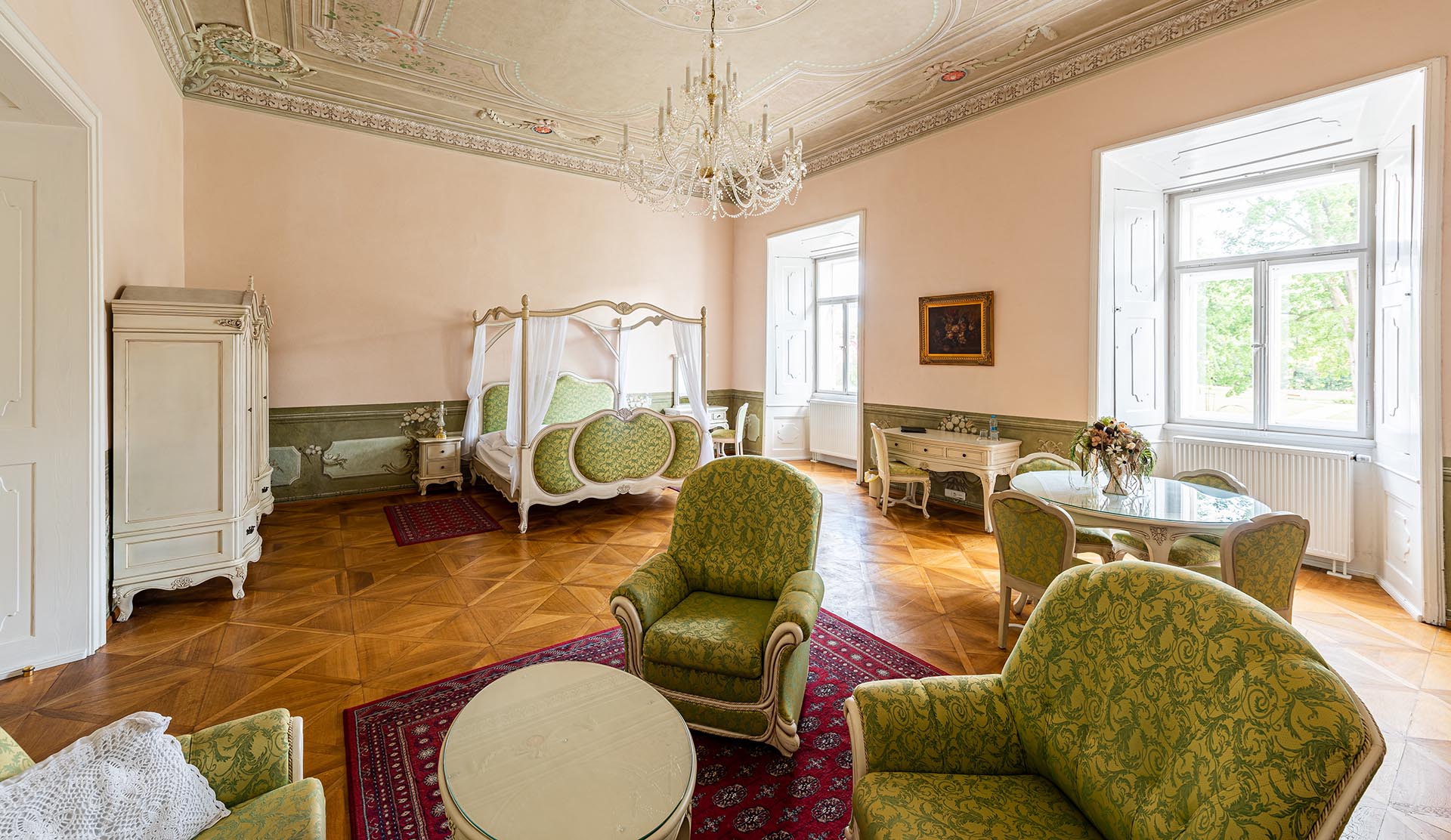 Hrádek near Sušice - Chateau
The chateau in Hrádek stands on the site of a fortified manor house from the 14th century and can be found approximately 5 km northwest of Sušice. The chateau complex has been listed as a cultural monument since 1964. The beginnings of the original village date back to the 13th century, when the village with its seat was owned by members of the family of lords from Kasejovice. The first of them was called Přibyslav of Hrádek, mentioned in 1298. In 1371 at the latest, Hrádek was annexed to the Velhartice estate. The Hrádek fortified manor house was later abandoned as unnecessary and fell into disrepair.
Around 1560 the Velhartice estate was divided and part of Hrádek with the desolate manor house was acquired by Jan Rendl of Úšava. In 1568 Vojtěch and Jan Račín of Račín became the owners of the manor. Sometime after the year 1568 they had the old manor house rebuilt in the Renaissance style. In 1598 Adam Račín of Račín became the sole owner. His son Humprecht Račín of Račín took part in the uprising of the Bohemian Estates in the years 1618-1620. In 1623 he was therefore sentenced to the loss of the free status of his estate to one of vassalage. He later succeeded in freeing himself from vassalage, but his son Arnošt Vojtěch of Račín sold the Hrádek estate in 1685 (1683) to Jan Heřman Černín of Chudenice.
After that the estate changed hands several times, and it was not until 1731 that its owner became Jan Ferdinand, Count Des Fours de Montu et Athienville. He had a new Baroque chateau built adjoining the old Renaissance one. In 1827 the castle estate was inherited by Karel Theodor Sturmfelder of Oppenweiler. From 1876 the last owners of the chateau were members of the Henneberg-Spiegel family, to whom it belonged until 1945, when it was confiscated. In the following years the Hrádek chateau complex was taken over by the Local National Committee, which used it as a warehouse, library and apartments. However, due to long-term lack of maintenance the chateau fell into disrepair and gradually found itself in a critical state.
In 2000 it was bought by Ing. arch. Pavel Lejsek, who started the reconstruction of the chateau complex and the adjacent park, which was completed in 2010. The chateau complex now contains a hotel, restaurant, wellness centre, the chapel of St. Valburga, a small museum gallery and an adventure golf course. The park and its productive garden with an orangery are also open to the public. Concerts, exhibitions and various festivities are held here throughout the year. Thanks to its romantic environment the chateau is a popular place for organizing civil and religious wedding ceremonies.
Hrádek near Sušice - Chateau
Adress: Hrádek 1, 342 01 Sušice
GSM:
Phone: +420 376 508 514
E-mail: recepce@zamekhradek.cz
Website: www.zamekhradek.cz