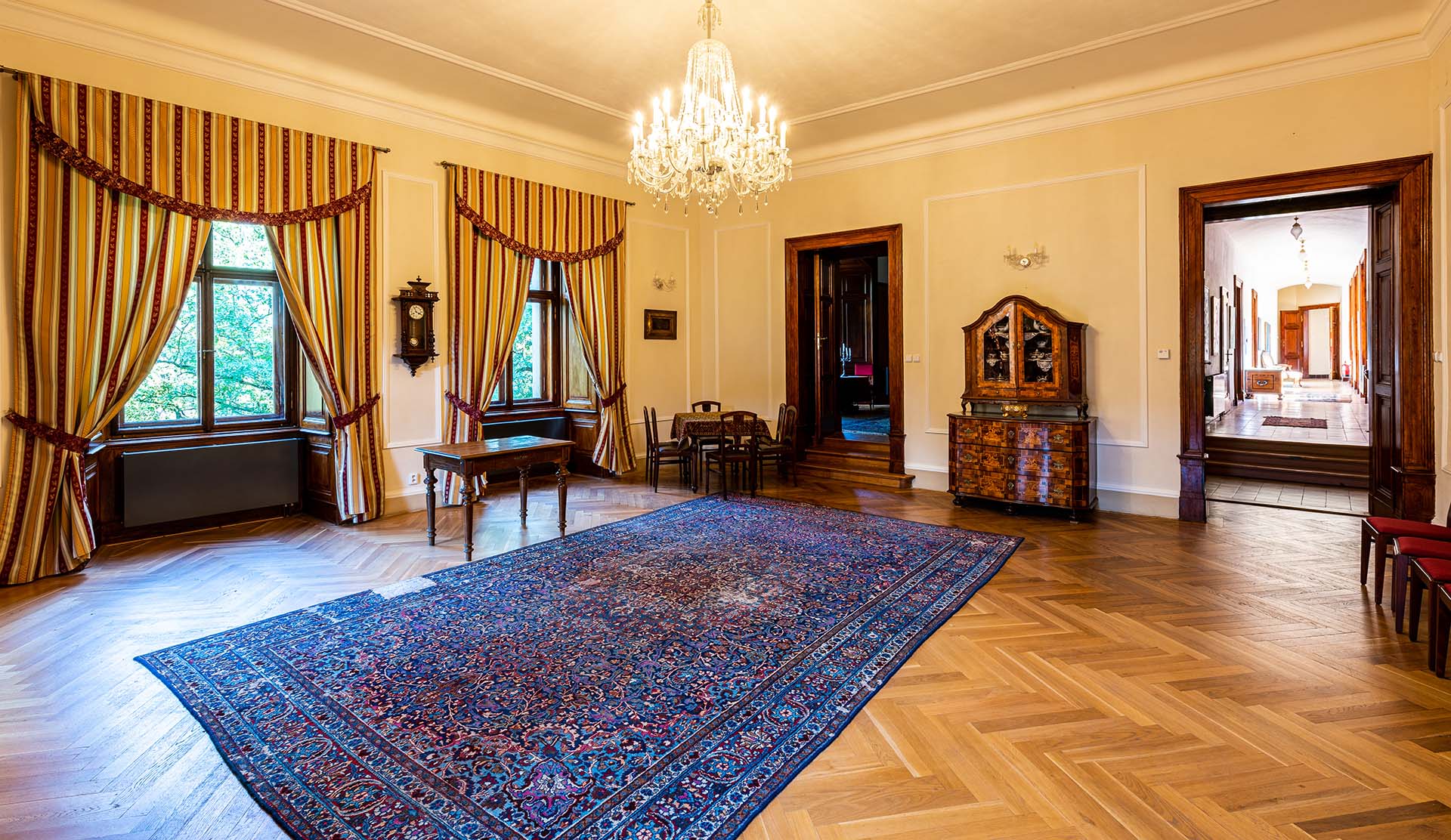 Stránov - Chateau
Stránov is a Neo-Renaissance chateau located on a promontory above the Strenický stream in the village of Jizerní Vtelno, approximately 7 km south of Mladá Boleslav. It has been listed as a cultural monument of the Czech Republic since 1967. The first written sources mention in 1429 a wooden fortified manor house owned by Bohuněk of Stránov.
In the same place around 1460 Jaroš of Sovojovice built a monumental Gothic castle which he called Nový Stránov. From 1545 to 1589 the owners were Berkové of Dubá and after them Karel of Biberštejn, the highest master of the mint. Another family to own Stránov was the Slavata family. And it was either the Slavata or the Biberštejn family who had the castle rebuilt into a Renaissance chateau. In 1642 the chateau passed into the hands of a member of the Brandenburg nobility, Jan of Lisau. His son Rudolf Adam married the great-granddaughter of astronomer Tycho de Brahe, Alžběta Lidmila, who wrote her Family Memoirs, which were published in book form in 2002. In 1746 Jan Václav Příchovský of Příchovice acquired Stránov through marriage and carried out Baroque modifications to the chateau, established a Baroque garden, built a sandstone fountain and erected the church of St. Wenceslas. At the end of the 18th century Václav Vojtěch Herites was the owner of the chateau, followed by Jan Herites and then knight Bedřich Neubauer.
In the 1890s Marie of Valdštejn and Vartemberk had the chateau rebuilt (according to a project by Josef Schulz) into the Romantic Neo-Renaissance form we know today. In 1917 the chateau was bought by the director of the Škoda Works, Josef Šimonek, who was raised to the baronial state for his achievements in industry. His family lived there until 1950, when their property was nationalized. Then a children's home was set up in the building and the farmyard was used by the local Collective farm. This resulted in very insensitive modifications in the interiors, and the destruction of furnishings and some buildings in the agricultural part of the estate.
Since 2003 Stránov has once again been in the hands of the Šimonek family. In 2004 for the first time in its history the chateau became accessible to the public and, gradually, partial reconstructions of both the interiors and exteriors are under way. In the summer season social and cultural events take place at the chateau.
Stránov - Chateau
Adress: Jizerní Vtelno 83, 294 31 Jizerní Vtelno
GSM: +420 608 056 933
Phone:
E-mail: info@zamekstranov.cz
Website: www.zamekstranov.cz