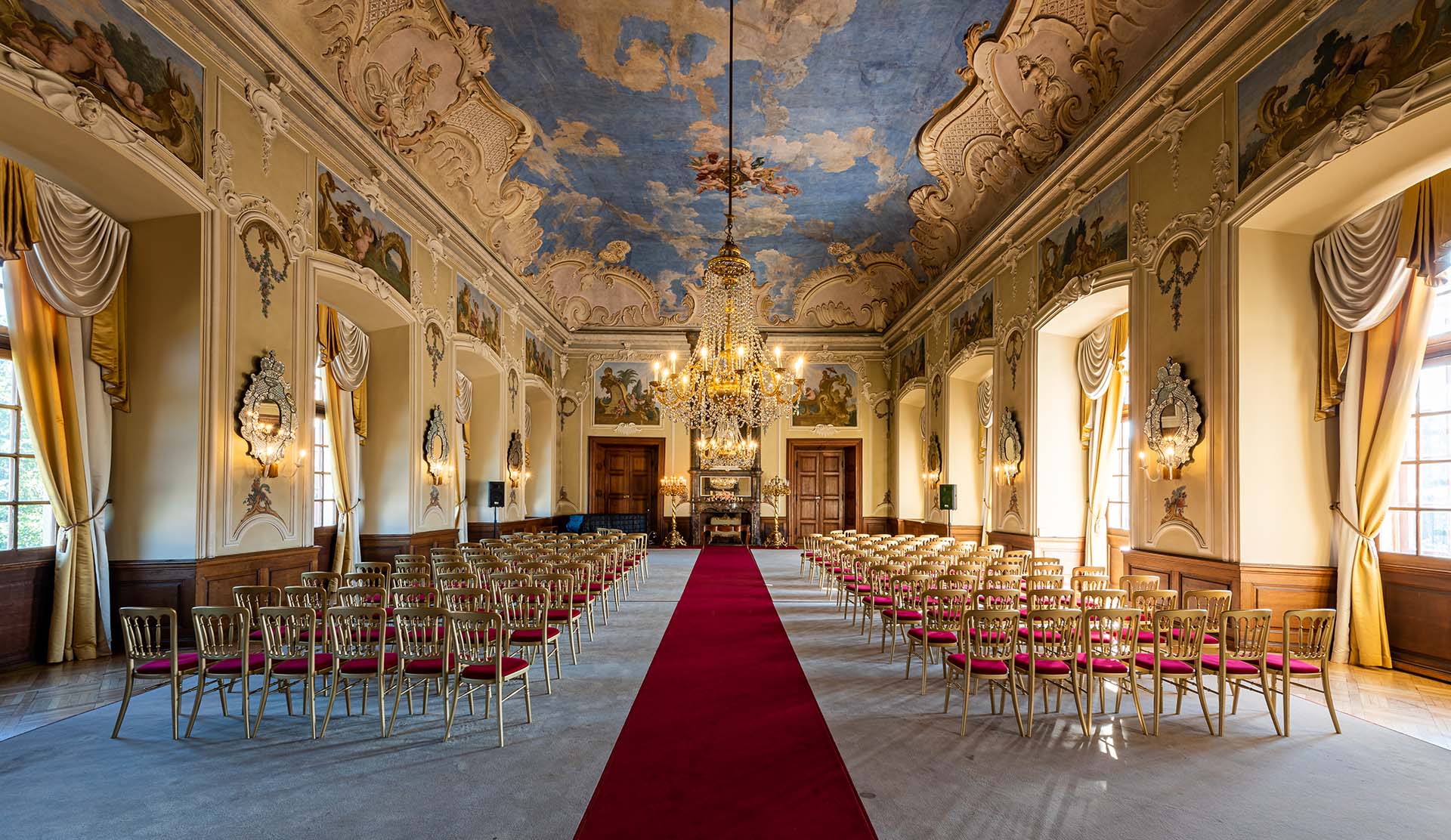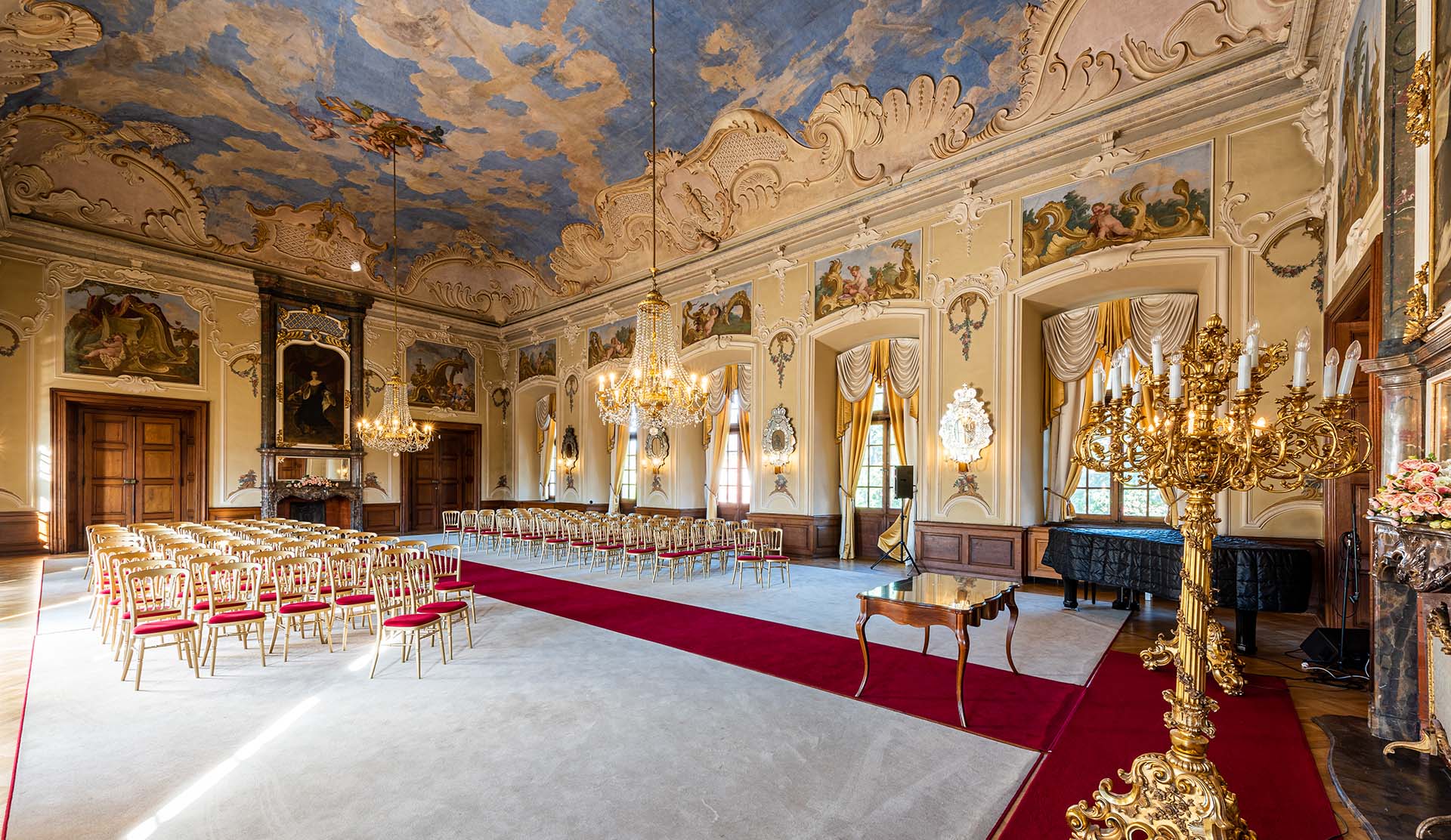 Dobříš - Chateau
The Rococo chateau in the Central Bohemian town of Dobříš is an extensive three-winged building with a French park and a large English landscape garden. The chateau together with the park has been listed as a cultural monument of the Czech Republic since 1965.
The predecessor of today's chateau was the hunting castle Vargač, founded in the 14th century by Jan Lucemburský above the nearby Huťský pond. In 1630 it was bought by Count Bruno of Mansfeld and Heldrunk, whose descendants owned it until 1780. In 1720, however, the castle burned down, and during the subsequent reconstruction it was converted into a granary.
It was probably František Maxmilián Mansfeld in the third quarter of the 17th century who started building the new chateau on the site of the nearby old manor house. At the beginning of the 18th century another owner, Karel František Adam Antonín Mansfeld, then had the chateau modified according to the project of architect František Maxmilián Kaňka. The chateau acquired its final form under Jindřich Pavel František Mansfeld, who had the original Baroque building, ruined by fire, rebuilt into a stately Rococo residence in 1745–1765. This reconstruction was carried out according to the project by French architect Jules Robert de Cotte Jr. The decoration of the interiors was mainly carried out by the plasterer Giovanni Niccolo Servandoni, sculptor František Ignác Platzer and painter Jan Petr Molitor. The French park, which was created as part of the modifications of the chateau surroundings, was later expanded into an English landscape garden around the year 1800.
When the Mansfeld family died without a male heir in 1780, the Dobříš estate was taken over by Marie Isabela Mansfeldová. In 1771 she married Prince Francis Gundakar Colloredo and thus became the co-founder of the current Colloredo-Mansfeld family. The Dobříš chateau was owned by the aristocratic Colloredo-Mansfeld family almost until the middle of the 20th century. In 1942, however, the castle was expropriated by Germany. In 1945 confiscation by the Czechoslovak state followed and from this period until the 1990s the chateau served as the Writers' Home under the auspices of the Union of Czechoslovak Writers.
In 1998 the property was returned to the descendants of the former owners, the Colloredo-Mansfeld family. The current owner of the chateau is Dipl. Ing. Jerome Colloredo-Mannsfeld (* 1949). Dobříš Chateau and its parks are open all year round. There are several sightseeing tours in the chateau. The local stable is used for weddings, and wedding ceremonies, concerts and other cultural events are also held in the hall of mirrors. In 2006 a 4* hotel opened in the north wing of the chateau. The Zámecká restaurant is also a part of the Dobříš chateau complex. In 2020, after several years, an extensive reconstruction of the French park and the orangery was completed - with the financial support of the European Union.
Dobříš - Chateau
Adress: 263 01 Dobříš č. 1
GSM:
Phone: +420 318 521 240
E-mail: info@zamekdobris.cz
Website: www.zamekdobris.cz